Turks and Caicos in a Pandemic
In October, we went to Turk's and Caicos to see the protocols
All those aged sixteen and over must be fully vaccinated, and all must test before arrival and get approval from the Turks government to fly into the country. Visitors we spoke to loved this as they felt safe even on the plane, knowing a large percentage of passengers were not only vaccinated, but all had recently tested negative.
We stayed at the beautiful Wymara Resort, which used to be Gaanzevort. The rooms are stunning, almost like they were brand new. We stayed in a one-bedroom oceanfront room with a full kitchen. I don't think I've ever stayed in more beautiful accommodations.
The process Pre-arrival
Before you can even board the plane, you have to submit paperwork to get authorization to travel to the island. You cannot submit your paperwork until 24 hours before, which is highly stressful, and we had to have a test within 72 hours. The island accepts the antigen test and must be submitted with proof of travel insurance to protect us if we become ill or have to quarantine on the island. We were denied initially. We submitted our paperwork the day before at three o'clock. The afternoon before we arrived, we were denied our authorization form to travel to the island because our test results were handwritten. So we had to rush back out to an urgent care, got another antigen where they printed everything off and submitted it. Within two hours, we had approval and our travel authorization. We talked to people at our resort who didn't get the authorization until the middle of the night and had flights leaving at eight o'clock in the morning. So our experience was much less stressful than others. We did learn even though the Turks and Caicos Tourism Board say they won't answer the phones after six o'clock, they are working around the clock on these since authorizations were happening in the middle of the night. So don't panic if you don't get authorization by six. We never did get through to anyone when we tried to call. We heard that guests who have Verizon phones have a hard time calling this number. We did not have a hard time using our phones once we were on the island. They were very receptive to email, though. The tourism board responded pretty quickly.
Once we arrived, you instantly knew you were in paradise. We chose to rent a car. They do drive on the other side of the road but we were familiar with this from driving in Grand Cayman so we had little issues. We heard taxi cabs were at a premium. Some places on the island are $50 per person round trip. So if you do the math for one dinner out, that's going to add to your travel party quite a bit. There is no Uber, so a car was a must for us. Our rental car for four nights was $300. Very, very worth it. The island is very accessible and easy to get around. It's much smaller than some of the other islands. Maybe 20 minutes to get from one point to the other was the furthest. We liked it because we could also dive down and investigate the island.
Where to go
We always ask locals where they would suggest going. Places that are not touristy that we could get an island vibe. We had success with every one of them!
Mr. Grouper was fantastic. It does not have a view, but it has a great staff and an incredible grouper sandwich, highly suggest it. I also had a conch salad which was fresh and fantastic.
We also went to Omar's Beach Hut. This spot has an incredible view. If you think of an island beach bar, this is it: view, great Caribbean music, food, and all outside with phenomenal breezes. Dave had the Jerk Chicken that was off the chart. It is spicy, though. I had a conch stew with grilled conch. It was incredible. The sauce was so good I would've eaten it alone.
I-Soon Reach Turks Head Beer at Omars
Coco Bistro is probably the one that everybody loves the most. If you have a celebration or on vacation, you like to do a couple of nice dinners; this would be one to put on your list. You will need to make reservations ahead of time for this. It is such an incredibly unique experience. You feel like you're sitting outside under a giant canopy of Palm frons where everything is beautifully lit. We asked the restaurant what happens when it rains. They said it barely does rain, but they do have umbrellas that they put over the top of the tables if it does: wonderful, wonderful, fabulous food and a fantastic atmosphere.
Coco's has a new spot in the same area called Coco Van. It's an old Windstream that they've made into a food truck located in the parking lot next to Coco Bistro. They've made that into a fun, unique experience with foods like duck tacos and interesting burgers. This would be great for lunch, or if you're looking for something quick and fun for the evening. There is also outdoor seating and a bar as well. Both Coco's and Coco Van are located close to Seven Stars and Ritz Carlton. You could probably walk there, but again, if you're going to go to Coco's, make reservations.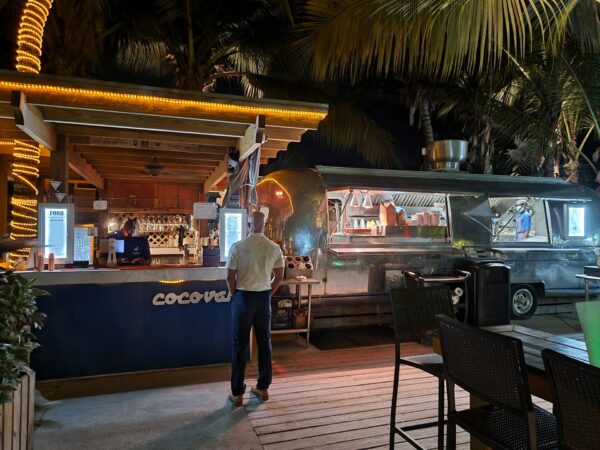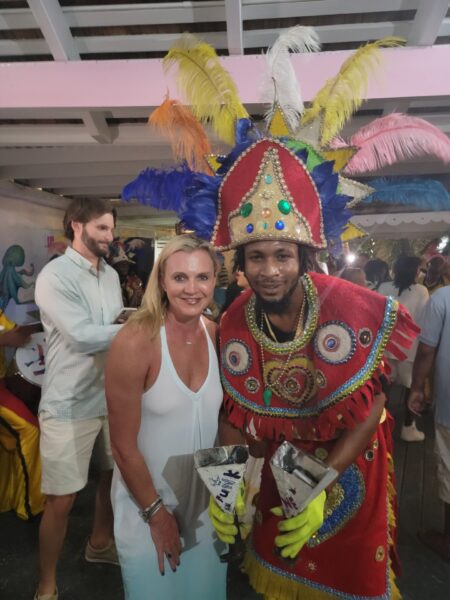 See it by Water
We did a half-day charter with Grace Bay Adventures. We are always big advocates of doing a half-day charter of some sort to get a better view. Seeing an area from the water gives you a different perspective of where you are. We try to save money in other areas to experience a personal charter. With a private charter, you get to talk to the crew and have more flexibility regarding where to go and what you want to do. The larger boats with many people on them are more structured on the itinerary, and the crew is just trying to get everybody fitted for snorkelling gear, going from point A to B. So they don't have time to talk to you.
Our charter was four hours, and we saw nine of the islands in Turks from the water. We experienced a couple of them by landing there. One was Iguana Island, which was super cool because there were hundreds of iguanas everywhere just running around. They just come up and meet you and greet you. You can experience the difference between the Caribbean and Atlantic sides from this island. You can anchor out on the Caribbean side, which is cooler and then you walk across the island, which is about two to three minutes, to the Atlantic side, where it really heats up.Iguana IslandIguana IslandGrace Bay Adventures
We did ask the crew about where to go that night. They were going to the Da Conch Shack and invited us to go. There was a Junkanoo band and a DJ. Truly a unique and memorable experience. We had so much fun there. We did not eat there, but we know many people who have eaten there and said it was great. Da Conch Shack is on the beach with a mix of locals and visitors.
Wymara Resort
As far as this resort goes, it's a pretty quiet spot. It is on Grace Bay but further down, probably a seven to ten-minute walk to the Sandals area. We liked it because it was quieter and we had a car to drive anywhere. However, the location may be an issue if you want to explore and rely on cabs.
If you're familiar with Grace Bay, it's also about five to seven minutes to the best snorkelling right off the beach. So you can grab your complimentary equipment from Wymara, and walk down the beach to snorkel.
I spoke above about how beautiful these accommodations were. We had an oceanfront one bedroom with a full kitchen and a living area with a large bathroom. I cannot say enough how much I loved this space and the view! Picture a cup of coffee and a book or a glass of wine with this view. I never wanted to leave.
Wymara had two restaurants, two open bars, a spa, a fitness center, and their pool was voted one of the best pools in the Caribbean. I think the pool has a beautiful layout with a fantastic view. If you're in the resort's open-air lobby and look towards the ocean, you have this fantastic pool and then a walkway that goes down to the ocean.
The staff was phenomenal.
Wymara has a breakfast buffet in the morning and has quite a few options. They're also working on making some more vegan and green juice options.
The chef has two themed dining nights. Saturday night is more of a Texas barbecue, and then Wednesday night is a fish fry. We did do the fish fry and it was great. They had a band and it's out on the beach. There were people from all over the island at the fish fry—even those staying at the Ritz Carlton and other resorts.
We did find most of the island expensive as far as food and beverage go. However, we went to the local grocery store, an IGA, and picked up some mineral water and other fun things because we had a car. We also went to the Wine Cellar and grabbed some wine and liquor. We thought that the prices were extremely reasonable, and it saved us a ton of money by doing it that way.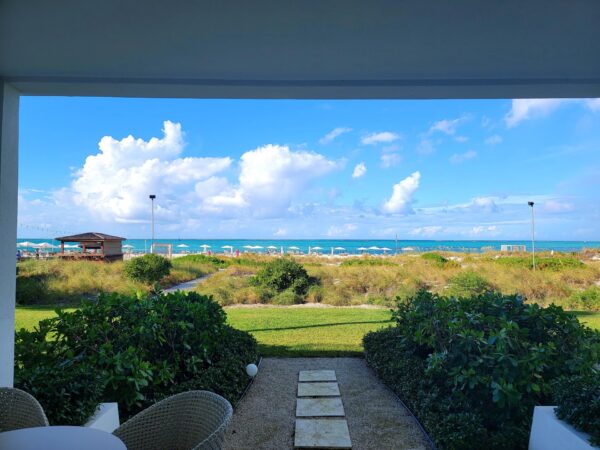 Other resorts
We did a couple of site inspections.
The Shore Club
The Shore Club is beautiful. It is not on Grace Bay. It's on the other side of the island, but again, it's only 10 to 15 minutes from everything. It had some phenomenal restaurants.
We had some great sushi at the Colonnade pool, and the staff was incredible. Shore Club is a beautiful property with spacious rooms, many of them with kitchens. In Turks and Caicos, we feel it's best to get accommodations with a kitchen facility because of its cost-effectiveness and convenience.
Ritz Carlton
This Ritz Carlton location is brand new. It just opened in June 2021 and is centrally located, so if you know Turks and Caicos, it is next to Seven Stars. It is predominantly a traditional hotel. As is par for Ritz Carlton, there are gorgeous grounds, tons of pools, restaurants, and shops. They do have some residential towers, but for the most part, it is rooms. The rooms are all oceanfront. I am very conscious right now of travelling. If for some reason, you get stuck on an island for a while, I don't want to be in a traditional resort room without a kitchen. This property didn't give me an island vibe, but it's a great option for Ritz loyalists. We did eat at BLT, which is Ritz's signature steak steakhouse. We have been to many steak houses and BLT was fine. The service was wonderful. We thought it was probably 50% too much as far as price versus what you got, and the price was exorbitant. Usually, if it's an experience that's worth the money, we'll go for it. We thought this one was not worth the money. However, Brianna at the bar makes one of the best espresso martinis we've ever had. So we think you should go there and try the drink. But there are a lot of other options on the island besides BLT Steakhouse.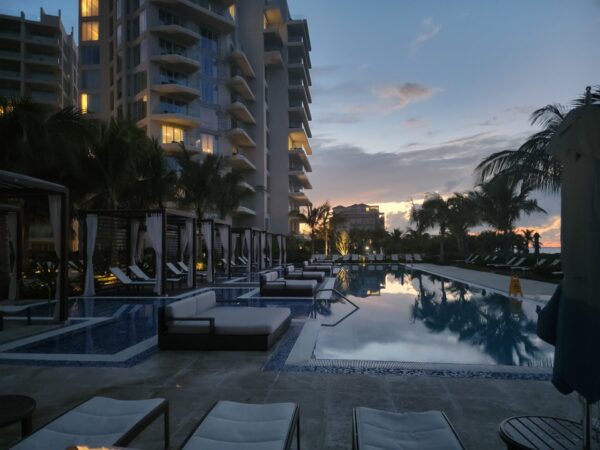 Beaches
We understand how some love the all-inclusive resort option. There are many places in the Caribbean where this is a fantastic option. Examples are; not as safe locations, do not have as much outside the property to offer guests or are a far distance from a local town. Most guests of all-inclusive resorts tend to stay on the property as they feel they have paid for all the amenities, food, and beverages. It would be sad for the Turks and Caicos Beaches guests to miss out on the hidden gems and all the people they would meet by not heading out to explore.
Turks is beautiful. The color of the water is just spectacular. It's small enough to traverse around and we loved the people! Nowhere on the island did we feel unsafe. Instead, we enjoyed meeting the island, knowing the locals, and getting to know their culture.
We highly suggest a trip to Turks and Caicos soon, let us know how we can help you. We will give you tips and tricks, especially with all the new protocols on manipulating through all of it. Contact your advisor at The Curated Travel Collection for more information. If you do not have an advisor with us, please reach out and we will be happy to assist you.