My Take on Our First International Trip During A Pandemic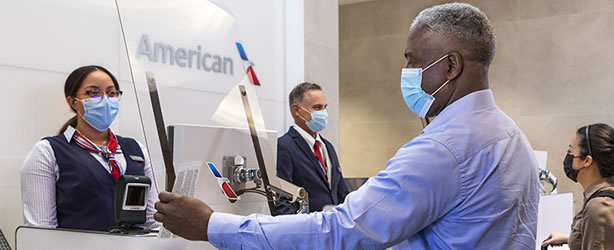 Photo Credit American Airlines
Below you will find my account of my first trip internationally since March. I am not going to go into detail about our resort, Palmaia, The House of Aia except the safety protocols. I will have a separate blog on the resort and all it's fantastic amenities and service.
At the American Airlines Admiral's Club, the seats are marked that they have been sanitized and we watched one employee go and sanitize as people got up and left. All seats were either spaced or had a table separating them. They had pre-packaged snacks for grab and go, but drinks were self-serve. The bar was open, and they were serving cocktails, beer, and wine.
The planes were very clean. They spray and wipe down all areas before we board. You get an alert on the AA app that the aircraft is thoroughly sanitized. When boarding, they give you wipes to wipe down your area if you choose to.
All passengers on the flights were wearing masks. I saw one lady who was asked by a flight attendant to move her mask up to her nose. All others I saw around us were wearing correctly. I looked around as we stood in line at immigration in Cancun, and everyone was wearing their mask correctly as well.
When we arrived and walked through baggage claim, we walked past a temperature screening area. I didn't realize it was there until we had walked past.
On the return home, we ate at the Cancun International Airport. The restaurant had a plexiglass divider on wheels between tables. They could move these as they needed to accommodate parties. They brought credit card machines to the table, so you were the only one who handled your card.
Our transfer to and from the airport was a private one with Lomas Travel, and it was clearly marked on COVID protocols. The driver wore a mask properly during the entire 30-minute ride, and we were required to as well.
On our return, we were met at the airport by a Lomas Travel Guide who walked us through how to answer the departure health questionnaire, walked us to the kiosk, took our passports, and did everything to get us our boarding passes. He helped us check our bag and sent us on our way. All things we could have done but made for a super stress-free departure.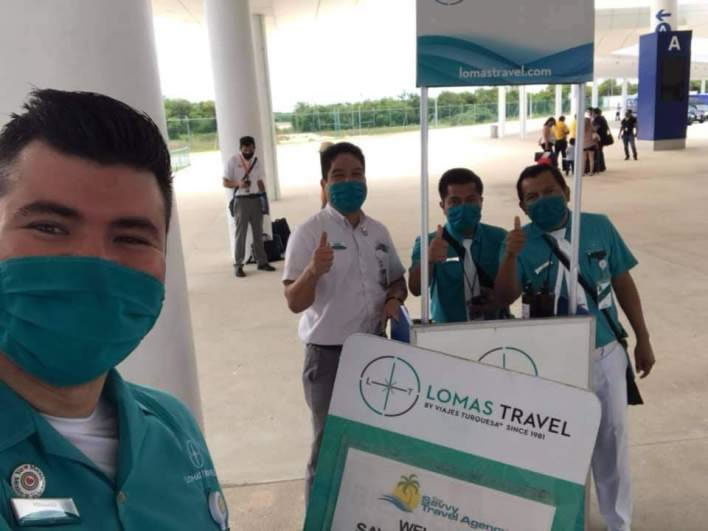 Photo credit Lomas Travel
When we arrived at the resort, we were asked to walk through a sanitation device to clean our shoes. Our luggage remained outside of the lobby. Upon checking in, our temperature was checked. There was plexiglass between the front desk staff and us at the resort.
Video Player
00:00
00:24
We were told we could remove our masks now that we were on the property, but most people still wore masks when in close contact with others. The staff all were required to masks at all times as well.
When eating at the resort dining venues, we were required to gel our hands upon entering and were seated at socially distance tables that were sanitized as we arrived. The breakfast and lunch venues were open-air locations as well. The menus were on QR codes.
In Playa del Carmen many were wearing masks outdoors walking around, but some were not. It seemed to be about 50/50, which is what we find here locally. When entering stores and restaurants, most wore masks as well. The two restaurants we ate at in town, not only did we wear masks upon entering but our temperature was checked with a wrist monitor, and we walked through the shoe sanitizers.
Our taxi drivers on both round trips, all wore masks properly. The streets were crowded, so staying on resort proper may be best for those who want to avoid crowds. We were very surprised by how many people, many tourists, were milling about.
If you have any questions about our experience, please reach out. When you are ready to travel, please consider letting us assist you.
The Curated Travel Collection is a division of Ears of Experience, a Luxury Travel Agency specializing in Disney destinations. A veteran travel advisor with 20 years of experience in booking hundreds of dream Disney vacations, Amy created Ears of Experience in 2009. With The Curated Travel Collection, Amy and her team of top travel agents use their industry expertise to design and book immersive and inspiring vacations for couples, families, and friends.