Luxury Transportation Review:
Brightline, Florida's modern high-speed rail
Today I want to share another great luxury travel experience I had recently: comfortably going from Miami to Orlando in about three hours during my first ride on Brightline, the modern high-speed rail in Florida.
The Orlando stop just opened in September of 2023, and we've heard so many great things about it, so we gave it a try after our recent Virgin Voyages cruise…and it completely lived up to the hype! With stops in Miami, Aventura, Fort Lauderdale, Boca Raton and West Palm, it's easy to hop from one of these southern cities to another. The new Orlando stop (they plan to go all the way to Tampa) made it so easy to get there from Miami. It's a real game-changer for anyone traveling in Florida.
Ready to start planning your winter escape on a tropical cruise or to sunny Florida? Contact us here.

From modern conveniences and comforts to great refreshments and beautiful terminals, I've got all the details you'll need for a great trip on Brightline.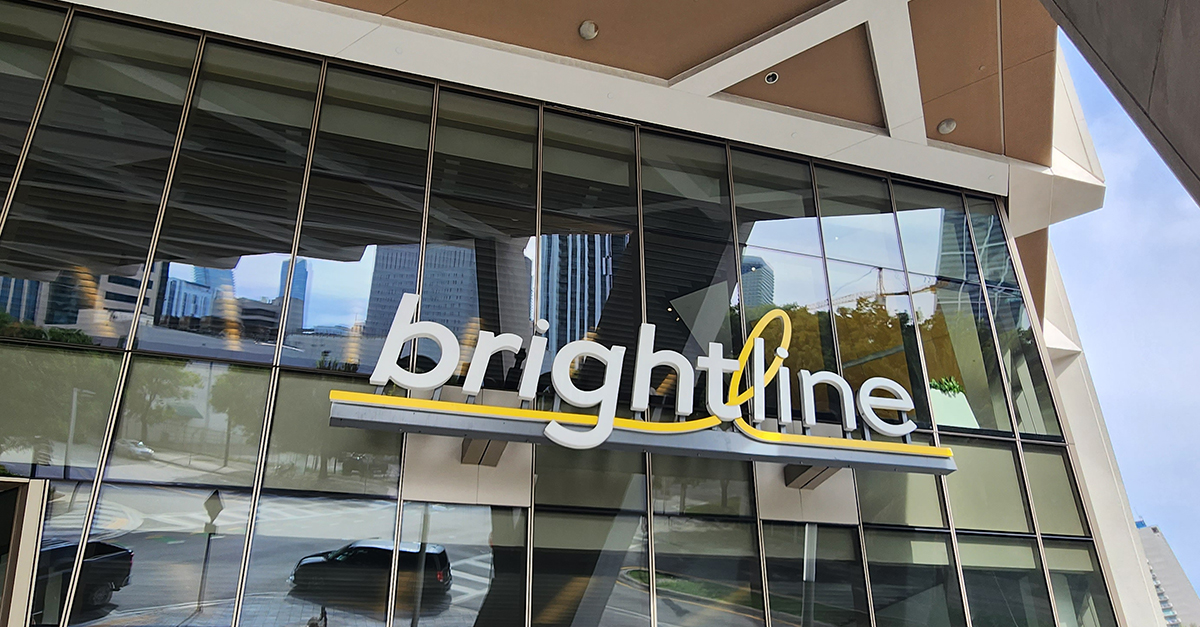 Shortly after disembarking from our Virgin Voyages cruise in Miami, we headed to the downtown Brightline terminal and were there in about ten minutes. The terminal, beautifully designed with a modern aesthetic and every convenience, had a coffee shop right inside the entrance. After you pass through security, there are a variety of marketplaces where you can find food and drink.
We opted for Brightline's premium service, which is akin to a first-class experience when flying, so I'll take you through our premium journey:
The Premium Lounge Experience
Upon entering the Brightline terminal, premium passengers are granted access to the exclusive premium lounge. The process is remarkably digital, with the option to use the app for quick entry…we found that it was easier to use the app for entry than the other option of a QR code. Our trip was scheduled for 11:45 AM, so the lounge offerings were predominantly breakfast items. The spread included eggs, potatoes, sausage, fruits, yogurts, pastries, an assortment of bread, bagels, and even a coffee machine with the option of all kinds of espresso drinks. In addition, there were two machines – one with a selection of wines and the other offering a choice of beers on tap, a really nice touch of luxury.
The lounge, while very comfortable, with ample seating and excellent resources for remote work like scanners, printers, conference rooms, adapters and chargers, had one minor quirk: it lacked restroom facilities. So we had to exit the lounge to access the restroom, which, while not a major inconvenience, was worth noting.
Onboard Comfort and Amenities
When it's time to board your train, Brightline makes sure you don't wait long – it's only about 10 minutes from boarding to departure, so you're not sitting still for long. From what I could see, the main difference between the premium and smart (their name for business class) classes is chiefly in the seating and added amenities.
Premium class has spacious hand-stitched leather seats measuring 21 inches wide, making for a comfortable amount of space from your seatmates. The tray for working or dining is conveniently positioned, which was great for me, as I was working during the journey. Both classes offer complimentary Wi-Fi and multiple power and USB outlets at each seat, but in the premium class, snacks and beverages are complimentary.
A Gourmet Experience 

One of the significant differences in premium class was the culinary experience, which was surprisingly generous and high quality. Upon boarding, we were promptly offered a selection of drinks, including mini Proseccos and Herradura Tequila—uncommon luxuries in train travel (and even first class flights!). You could also choose from a large variety of nonalcoholic beverages…club sodas, any soda you wanted, juices, waters, and we also got a snack.
Snacks included a prosciutto and cheese snack pack and smart popcorn, which honestly I felt would hold me over for three hours, but then they also bring you lunch! Lunch options were equally impressive, with a sandwich, hummus, a fruit cup, and a little chocolate square. While I think that they served more than I would've eaten in a three hour trip, it was lovely and I was extremely pleased with the experience.
Scenic Views, Productive Downtime and Convenience
As we departed from Miami and headed to Orlando, we were treated to picturesque views of the water, especially as we followed the coastline. This section of the journey was scenic and tranquil, and it was such a treat to not have to drive. I was able to get a lot of work done on my way while really enjoying myself, and found that even as the train made the turn inland and followed a highway, the amenities and overall experience allowed for a productive and relaxing journey.
The new terminal in Orlando is really beautiful and clean, with modern architecture and lots of light and the same kinds of ease we experienced in the Miami terminal. While it's close to the Orlando International Airport, it is not in a terminal, so you don't have to go into the airport and then come out. It's in its own building, so you can easily arrange for transportation from the terminal to your next destination.
So all in all, I highly recommend you try Brightline's high-speed train service for a luxurious and efficient way to travel between South Florida and Orlando. Whether you're planning a central Florida vacation at the theme parks, adding a cruise or a visit to some of the gorgeous beaches or cities on their route, Brightline offers a level of comfort and convenience that's hard to match.
If you're ready to get started on your next vacation to all that Sunny Florida has to offer, just contact us, tell us your vision and we'll get started.
Relax, we'll take care of everything,
Amy Westerman
President
The Curated Travel Collection