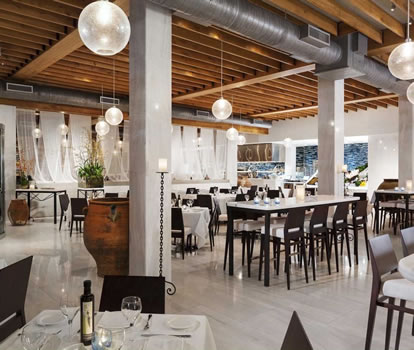 Estiatorio Milos (referred as Milos by most) recognized as one of the finest Greek restaurants in the world, with locations in Athens, Montreal, New York and Miami. It was founded by acclaimed Chef and Restauranteur Costas Spiliadis. We have been lucky to enjoy the Hudson Yards and Miami location.
We recently visited the Miami restaurant located in the South of Fifth District. The stated décor evokes the sense of being in a library or study and had a modern, industrial feel to it. White drapery gave the sense of sitting on an outdoor patio with the Mediterranean, possibly just behind the curtains. The bar was backed by a significant wine collection featuring many Greek wines, with an assortment of French, Italian, and Californian wines mixed in. Service was professional and courteous, however, there were times when our server seemed to disappear for long stretches when we were waiting for dinner to be cleared and then for the check after dessert. Overall it was a first-class experience, though.
The menu, as you would expect, is Greek, and it is delicious. You get to choose the fish you want for dinner, literally. They walk you up to the display and explain each variety for you with a short description of each. This method makes it easy for all that aren't familiar with Mediterranean species (like me). They also explained what preparation they suggested based on weight and species of fish. Some of the selections are fresh Mediterranean fish flown in from Greece, Spain and Portugal. They are sold at market price by the pound. Examples of species are; Fagri, Loup de Mer, Lithrini, Dorado Royale, Dover Sole, St. Pierre, Balada, Barbouni¸ Sfyrida¸ Rofos, Steira, Raska, Langustines, Blue Lobster, Langusto. They also have American varieties such as Black Sea Bass, Red Snapper, Pompano. The fish options can change daily. Preparations are simply grilled, lado lemono (grilled with olive oil and lemon), or baked in sea salt. We chose Balada cooked traditionally, and we ordered it lado lemono that added to but did not overpower the fish.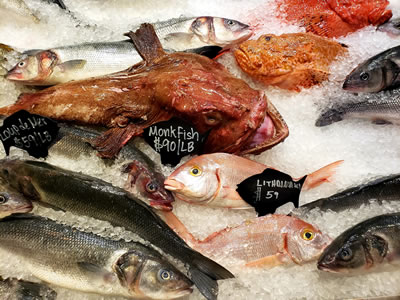 We always get grilled octopus wherever we can find it on a menu. We have had several outstanding dishes, but this topped them all. Marinated and simply grilled, it was wonderfully tender and tasty. You cannot pass this up. Milos offers many different sides, and we chose the Greek salad to start and then grilled vegetables with our fish. It was exceptional! Dessert was also over the top! We ordered the Ekmek Kataifi and the Baklava Duo. The Ekmek is phyllo dough that is shredded and then topped with a custard and Chantilly cream. It was light and creamy and paired well with the espresso I got. The Baklava was simple and amazing with honey, light and airy phyllo and almonds. The Baklava is usually paired with Baklava ice cream as well.
Although fish is their sweet spot, they do offer steaks and lamb for those that don't prefer fish. The menu is available online and presents a thorough listing of their offerings. Enjoy!