Costa Rican Private Rum Tasting
One of our favorite experiences in Costa Rica was a Private Premium Rum Tasting at Four Seasons Resort Costa Rica at Peninsula Papagayo. We did this in the La Reserva room adjacent to Anejo Bar. It was a two-hour experience where Adrian, our rum master walked us through the history of the rums we were tasing as well a great deal of the Costa Rican culture. We learned so much more than rum from him that night. It was truly an unforgettable experience. Below I have highlighted the rums we tasted that night.
Three of the below rums use The Solera System for Aging Spirits. The Solera system uses a collection of barrels maintained of differing ages. Spirit is drawn from the oldest barrel, which is then replenished with rum from the next oldest, itself replenished from the next oldest, and so on. This method creates a tremendous balance of flavor, as the oldest spirits impart flavor and balance on the younger spirits mixing with it, and ensure that there is some very old rum in every bottle drawn.
Centenario Real
Centenario Real is made under the solera method and is a special blend of selected rums from 15 up to 30 years. These rums were aged in a selection of fine oak barrels which were separated from the rest, specifically for this purpose. The nose has woody aroma, almonds with vanilla and red berries with a deep color with an amber glow. In the mouth there are heavy notes of red fruits, almonds with vanilla, chocolate and wood are achieved in this exceptional rum, which has a very balanced blend of exquisite flavors with a silky finish. This magnificent Ultra Premium Rum has a long and elegant finish that will make moments unforgettable.
Zacappa Royale
Using the Solera Sytem, this particular bottling is then finished in French Oak casks sourced from Le Bois du Roy (which translates as the Wood of the King – referenced by the regal title of this bottle). This ancient forest is formed of four woods, which were protected in the 13th century by the French monarch himself. French oak is known for adding a dried fruit flavor to spirits, very different to the vanilla rich American Oak, and pairs well with the dense, thick flavors of the Guatemalan rum. This rum has rich notes of roasted walnut and diced almond, with a hint of marzipan. This gives way to dark chocolate, treacle and damson elements. Overall, the average age of this rum is about 30 years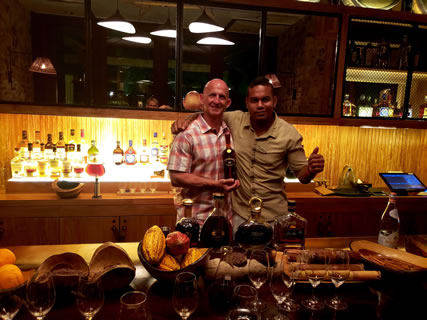 Diplimatico Ambassador
A departure from the usual methods, this rum is a blend of 12 year-old 100% pot-still rums bottled at a slightly higher proof. On top of the usual ex-bourbon barrel aging, this one is given an extra 2 years in Pedro Ximenez sherry casks. It has hints of lemon, apricot, orange, herbs, woodsy botanicals, and spice, imparting a sweet and rich flavor profile. A slight tobacco smoke to tie it all together makes you understand why sipping rum and cigar smoking are an age-old tradition.
Flor de Cana 25 yr
Distilled from sugarcane that is grown and distilled on the side of an active volcano, this rum gets a lot of its flavor from the amazing flavors from the rich volcanic soils. Flor de Cana is known as one of the best rums in the world to this day.
Flor de Cana 25 is a true 'estate spirit' meaning that every aspect of production takes place right in the shadow of the San Cristobal volcano. The rum is naturally aged without sugar and distilled with renewable energy. It is dark amber in color with aromas of oak spice, orange peel, and caramel with vanilla and baking spices. It was declared Best Rum of the Year by the International Rum Conference in Madrid in 2017 and is known as the best sipping rum in the world.
Centenario 25 yr
Centenario International is a 50-year-old company that was spun off of the Seagram's brand in the 2000's. This Costa Rican rum contains selected rums from their Great Reservoir (Grand Reserve). Ron Centenario 25 years old is handcrafted, containing a perfect mixture of rums from 6 to 25 years, with an undeniable smell of wood and a delicious fruity aroma of green apple. Ageing is done in American white oak barrels, under the Solera system, giving the rum an amber hue with mahogany flashes. It has a slightly sweet flavor with woody notes. This rum is a gold medal winner since 2011.