Christmas in July?
Now's the time to book a Swiss holiday skiing adventure
Already thinking about escaping the summer heat, wishing it was ski season? I know for me it's giving Christmas in July a whole new meaning!
We visited Switzerland over this past holiday season and had an absolutely magical time; now we can help you plan the perfect ski adventure and holiday getaway.
Imagine stepping into a winter wonderland, surrounded by snow-capped mountains and the enchanting spirit of Christmas, skiing and snowboarding all day in the incredible Swiss Alps, then cozying up in front of a fireplace to end the day. While it may seem like a dream, the luxurious destination of St. Moritz makes it a reality, offering a unique and unforgettable experience for any ski vacation – especially during the holiday season.
St. Moritz, nestled in the heart of Switzerland, is a true haven for winter sports enthusiasts. The journey begins with a convenient flight into Zurich, which provides nonstop connections from various cities across the United States. From Zurich, a relaxing and easy train ride awaits, where you can view the breathtaking Swiss countryside and arrive conveniently close to hotel and ski facilities.
Should you encounter any challenges during your train journey, friendly passengers or staff will gladly assist you. (Switzerland offers widespread fluency in English, ensuring easy communication with fellow travelers and locals.) However, if mobility issues or excessive luggage pose concerns, driving or a car service is preferable. Make sure to check weather conditions though, since snow will make the three-hour drive from Zurich to St. Moritz impossible.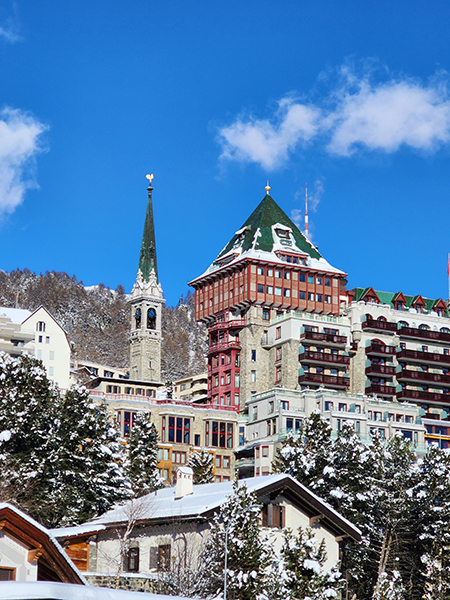 Upon arrival at the St. Moritz station, a simple notification to your hotel will prompt their pick-up service to greet you. A quick five to ten-minute ride brings you to the Kempinski, where we stayed – a luxurious hotel that looks exactly like a picturesque Christmas card. Its grandeur and ornate beauty make it one of the most visually captivating accommodations I've ever stayed in. The hotel also offers unparalleled luxury, excellent food and convenience, including easy access the nearby Corviglia mountain.
St. Moritz is the well-known home of winter sports, catering to enthusiasts of all kinds. While downhill skiing and curling take center stage, you can also do some cross-country skiing, snowshoeing, and horse-drawn snowmobiling. They even have a horse race across the frozen lake in January or February! From the hotel, we took an absolutely unforgettable horse-drawn carriage ride through the town, around the lake, and along the scenic back roads; with views of gorgeous Swiss architecture and glistening snow-topped trees, I can't think of a better holiday experience. It's definitely one you'll treasure forever.
Skiing enthusiasts will love the the variety of slopes and trails that St. Moritz offers, suitable for all skill levels. Local resorts employ ski instructors who are fluent in English, Italian, and other languages, so language barriers won't be an issue. The proximity to Milan, only a two-hour drive away, adds a touch of Italian influence to the region and creates a rich culinary scene, where Swiss, German and Italian flavors intertwine. You can also find high-end shopping options in St. Moritz, such as Chanel and Christian Dior.
After a thrilling day on the slopes or an afternoon of exploring the town's offerings, you can unwind in one of St. Moritz's charming outdoor Glühwein bars. These delightful establishments offer a warm and inviting ambiance, complete with crackling fire pits, where you can savor a cup of this signature mulled wine and bask in the joyous atmosphere of the holidays. St. Moritz truly exudes a magical allure that is sure to enchant visitors year-round.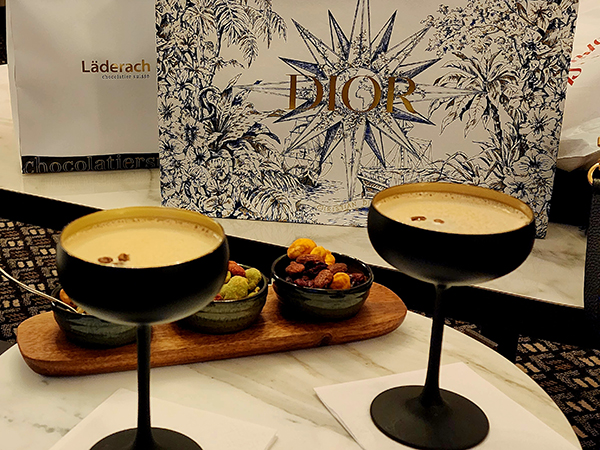 If you're seeking an extraordinary escape, one that blends the enchantment of Christmas with the exhilaration of skiing, St. Moritz is waiting for you. This idyllic destination seamlessly blends luxury, natural beauty, and winter sports to create an experience that will leave you with memories to cherish forever. Embrace the spirit of Christmas in July and start dreaming of a vacation that combines adventure, relaxation, and the sheer joy of being immersed in a real-life snow globe.
Now's the time to start planning for your skiing adventure to celebrate the holidays in style. We would love to help you experience this amazing place; just reach out today and we can start dreaming together today to create the perfect Christmas this year.
Relax, we'll take care of everything,
Amy Westerman
President
The Curated Travel Collection