Acqualina Resort and Residences, Miami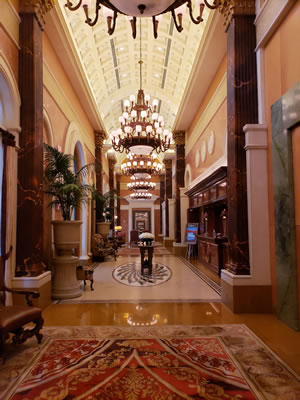 Acqualina is in Sunny Isles, Florida. The good thing is it is a quiet area, mostly residential. There are some other hotels, but it is primarily high-rise residential buildings. You don't have all the clubbing and South Beach nightlife. But you are only 30 minutes from the hubbub. So, if you want to go down for dinner in South Beach, you can do that and still have peaceful days by the beach. It is a family-friendly resort. It has a great children's' program as well as easy direct access to the beach. Acqualina is between Fort Lauderdale and Miami. When flying in or coming from a cruise terminal, It's about 20 minutes from Fort Lauderdale and 30 minutes to the Miami Airport. It is right by the Aventura Mall, which is fantastic shopping and an excellent rainy-day activity or if you don't have a good shopping scene. It's also excellent for a pre or post-cruise stay. Acqualina can arrange transportation for guests to the port as well. The Mediterranean style can be felt as soon as you pull up.
For those with families, easy beach access is key! You can go from the grassy area on the resort grounds right onto the beach so kids can run back and forth. Adults can be in the chaise lounges in the grass if they don't want to be on the beach and still have an eye on the kiddos. Acqualina does have beach service for drinks and food. There are three pools. There is an adult-only pool, a recreation pool that is smaller, and the Beach Club pool with a bar. This zero-entry pool is family-friendly and the largest. The kids' program is based around Marine biology. Each day is a different theme, but it's all based around Marine biology. There is also a great turf area where they have soccer nets set up. They also have basketball hoops and a large chess area. As a welcome amenity, each child in the travel party gets a new Acqualina boogie board in the signature red with Acqualina white logo. They are theirs to take home if they want. But understand if flying that may be difficult to carry. But what a cute idea for the kiddos!
Acqualina has no resort fees, which is a big sticking point in our industry right now. There has been a lot of talk about hidden resort fees. They do have a parking fee. I believe it was like $37 a day for valet.
The accommodations are on the larger side. They have a standard studio, one-bedroom, and two-bedroom option. Most floors in the hotel only have four rooms on them, which is fantastic for traffic. On these floors, there are two rooms with independent doors and one larger door. There is either a regular hotel room or a one-bedroom and two-bedroom suite on each side. If you have a one and two-bedroom on one side, you can close the larger door and lock those two accommodations together. Excellent for larger parties!
In many of the one-bedroom, there is a den with a single bed and space for a pack n play. For kids that are napping or going to bed, you don't have to have them in the bedroom. You can close them off so others can enjoy the accommodations. Some of those floor plans that do not have the den option so you will need to request this if it is wanted. The living room has a pullout queen. That means you can sleep five in a one-bedroom. The one-bedroom suite has a full kitchen with Wolf appliances. And the bathrooms are massive. The one-bedroom also has a half bath which is helpful when the full bathroom is occupied.
The oceanfront rooms are amazing. There are different categories, but they are all the same size. The category is based off the view. I actually liked the lower ocean fronts because I felt I was more with the water.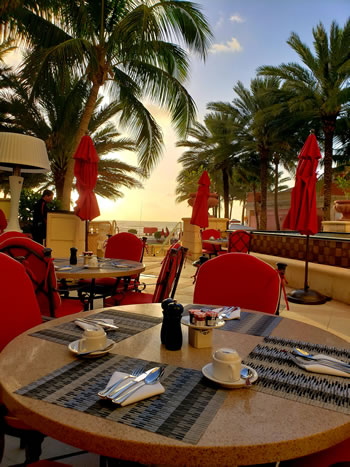 The spa was beautiful, and the treatments look very inviting. When booking with us, our clients receive a $100 spa credit to enjoy this area of the resort as well. They do have an option to access the rain showers, saunas, and relaxing rooms as well as the outdoor spa area, which includes a healthy spa menu. Access for most guests is currently $40 a day. Our clients have complimentary access.
Acqualina's fitness center is well appointed. From Peloton bikes to weight machines, and free weights, a solid workout can be had by all. The spa can also set up personal training, mat Pilates, and yoga on the beach.
The food at Acqualina is impressive. You have the AQ bar, AQ restaurant, IL Mulino New York, The Costa grill, and the Marketplace. The AQ restaurant is where they have breakfast. Our clients get two complimentary breakfasts per room per day. They have indoor and outdoor seating.
Il Mulino has impeccable service, and the food was outstanding. If you are a foodie, you will love it. Their menu is Italian. Homemade pastas, seafood, steaks. We had pasta, Branzino, and Caesar salad. We topped it off with their flourless chocolate cake, Torta Di Cioccolati. As a special touch, they come to each table and serve their complementary grappa.
Make sure to visit the AQ Bar. They have just about anything you could request, and the bartender was committed to making me my favorite martini exactly how I like it, and I like it far from the traditional way.
Acqualina is not for the bachelorette party gang wanting to bang it out in South Beach for the weekend. However, this is an excellent high-end luxury beach option for those who want to get away. It is a great option for a long leisurely weekend for those who do not want to mess with the passport, go anywhere too far or love the Miami Beach area.
When booking with us, we will work with the staff on making this vacation a memorable and relaxing experience at your pace with your needs.
For more information, we encourage you to watch this video hosted by the Manager of Acqualina, Cristof Pignet