Looking for something for adults only?
I've got 6 Reasons you should try Virgin Voyages
I've got a new journey to share with you this week that surprised even me, a seasoned traveler with over a hundred cruises under my belt. Dave and I recently embarked on our very first Virgin Voyages cruise, and it was an absolute dream.
Having spent a significant part of my life in the cruise industry, I was curious to see what the buzz was about this particular one. After spending time with them last week, I can now say that Virgin Voyages offers a luxury adults-only cruise experience that truly stands out from the rest.
Ready to start planning your next cruise adventure? Get in touch today and we'll start dreaming together.
So what's the big deal about Virgin Voyages? Here are my top 6 reasons why this cruise is one you absolutely must take:
1. Adult-Only Experience
Virgin Voyages is exclusively for adults aged 18 and over, so you won't find any kids on board. While we had the conception that this cruise line would cater to a younger, party-loving crowd, we found that the passengers fell mostly in the 35 to 65-year-old range, so it's a perfect fit for those (like us) who still enjoy nightlife but prefer a more relaxed pace. I personally found that the age range on the ship is more about a state of mind than a specific age group, and I felt very comfortable in every space I was in. There was so much to do from shows to great bars, nightclubs and restaurants, and we saw lots of reunions, birthday parties and empty nesters like us that still wanted that lively energy. There's really something for everyone, so we had an incredibly fun time; it was truly the sweet spot for us.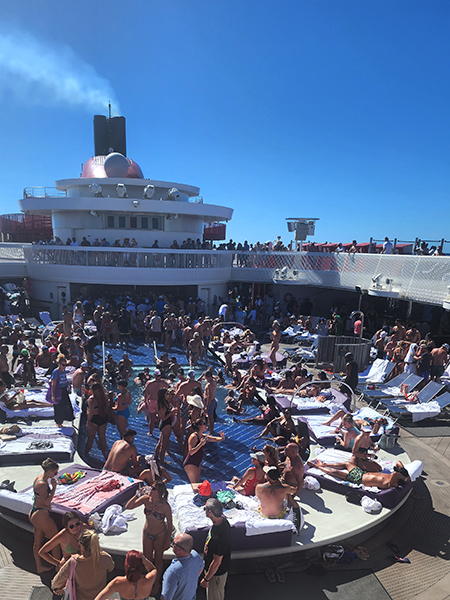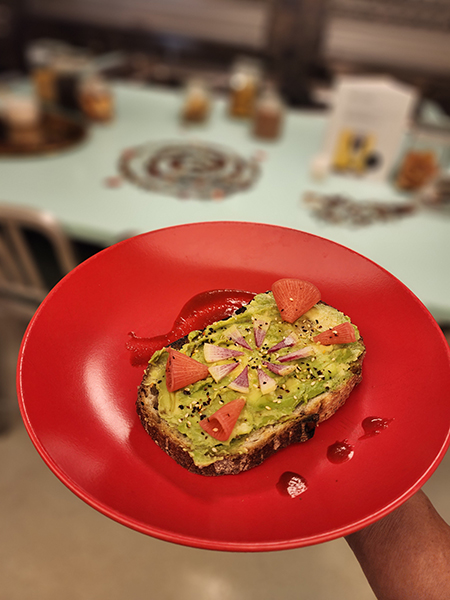 2. Dining Out Feels Like Going Downtown
Virgin Voyages really elevates the dining experience by offering a choice of 20+ restaurants, each designed to provide a unique cuisine and vibe. The ship's dining venues resemble downtown restaurants rather than the traditional cruise ship offerings, and even the ship feels like a boutique hotel. Unlike the typical cruise where spaces can feel generic and impersonal, here every area is distinct and purposefully designed, with beautiful seating areas, live plants and modern lighting, reminiscent of upscale downtown hotel lobbies. The variety of bars and eateries making you feel like you're in a specialty restaurant every time, and each have not only excellent food but outstanding wine lists and cocktails. One great feature we loved is that each restaurant has its own bar, so we could enjoy different restaurant atmospheres even if we couldn't secure a reservation there.
3. Inclusive Amenities
One of the most attractive aspects of any cruise is the inclusivity, and Virgin Voyages is no exception. For the "Always Included Luxury" fare, all of the dining and your essential drinks, including coffee, soft drinks, juices, tea and water are included in the price, so there are no extra charges there, and there are stations throughout the ship for your convenience. Tips for alcohol, as well as food, are also included, so you won't be signing your bar plus tip every time you sign your bar tab. You also get impressively reliable onboard WiFi (it's often spotty on other cruises), a cabin with USB chargers and a sofa bed (maybe even a signature red hammock on a balcony), access to all of the entertainment venues, group fitness classes and of course all of the restaurants.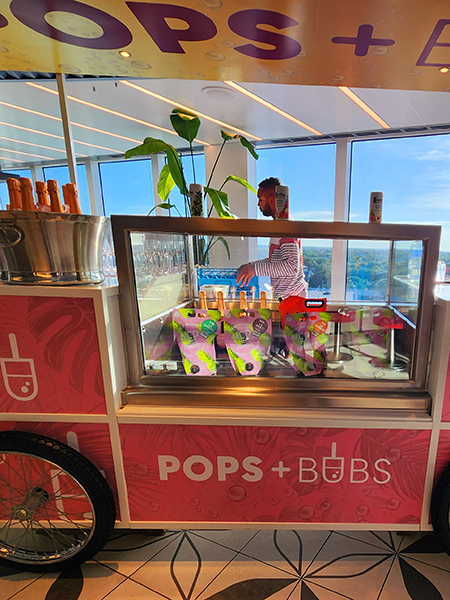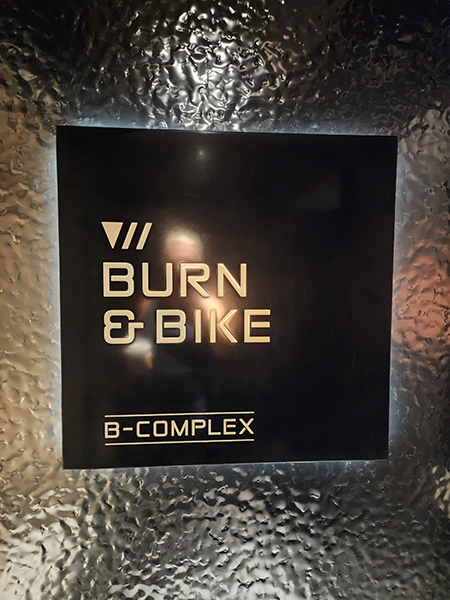 4. Wellness, Prioritized
Virgin is known for having exceptional fitness facilities and a focus on wellness, which we really appreciate. Group fitness classes are offered continuously throughout the day; they have a VHS eighties workout, a bungee workout, HIIT classes, yoga classes and more. The gym is great, there are tons of workout opportunities on this ship, and those are all included as well. We even did a spa treatment and my deep tissue massage was one of the best ones I'd ever had, which surprised me. It's just a top-notch, holistic approach to your well-being while on board and it helps you keep up with your fitness as well as burn off those calories from all the amazing meals out!
5. Outstanding Entertainment
Virgin Voyages' shows and entertainment options are all included in your cruise fare, and there is a fabulous variety (including a "dual reality" experience I don't want to spoil by telling you too much about): from mesmerizing small-scale performances to grand theater shows, there's something for everyone. You can attend a large theater setting with high energy, Broadway-style entertainment, or you could be in Diva Bingo, or listening to an incredible guitarist, or a more chill environment of a Caribbean vibe with Barbados music, or up at the pool with a DJ playing in the afternoon. You may even be invited to a secret tour or event. If you get one of these highly coveted invites, they are not to be missed. There's something for everyone and you can be part of it or get away from it, since their spaces are designed to create so many different environments…they even have a non-smoking casino, which is key. The pool was pretty busy, like on any cruise ship, but there were places around the ship you could escape to go to be in the sun or kick back in the shade.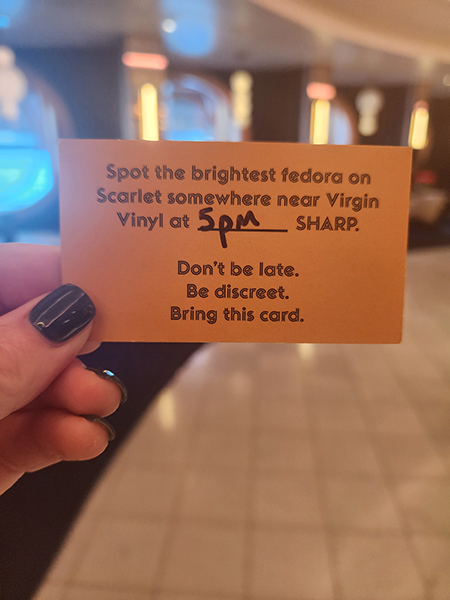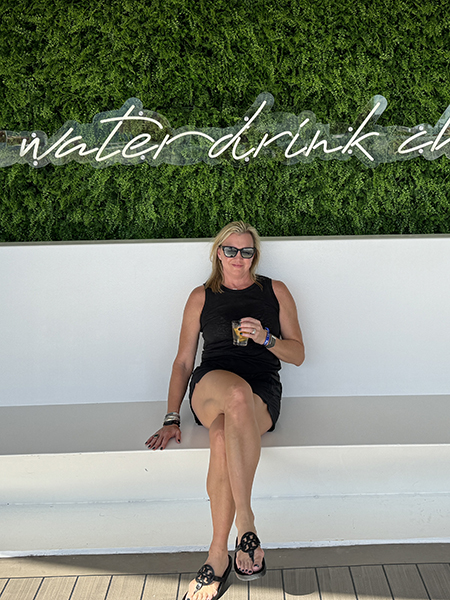 6. Casual Luxury
Something we truly loved overall was the laid-back ambiance, and people dressed in what you would call "casual luxe." There's no need for jackets or overly formal attire, so while we love to really dress for dinner (me in a dress and heels, Dave in long pants and a long sleeve button down, golf shirt or a short sleeve button down) we felt very, very comfortable. Some people were much more casual, it didn't really matter – it's a relaxed atmosphere where comfort is key. This entire ship exudes this relaxed, elegant vibe; it was the perfect balance between energy and sophistication. There weren't loud announcements going on, or photographers bothering you for pictures, which we liked. Overall, it reminded us of boutique hotels in energetic cities like Chicago or Nashville, and we appreciated how there were dedicated spaces for everything as well.
We were truly impressed by how different this was and how much we enjoyed it. I'm surprised we hadn't gone sooner, but we'll definitely be back. We even got to experience the "Rock Star Suite" (highly recommend!), a total blast complete with embroidered robes and our choices of liquor and records, delivered to our room.
If you're looking for a truly unique and all-inclusive experience, whether you're a first-time cruiser or a seasoned traveler, Virgin Voyages is an absolute must.
So let's get started, and we'll share some of the great promotions they offer year-round for cruisers of all kinds, just contact us and tell us your vision so we can get started on making it happen.
Amy Westerman
President
The Curated Travel Collection
P.S. For more of our travel stories, tips and trends visit our blog.